Every story has its beginning. In this case, The Big House has had a long-running history of 11 years, cementing itself as the longest-running Super Smash Bros. Held every year in Detroit, Michigan, The Big House was first established in 2011 and has been the most prestigious tournament series event alongside the "Evolution Championship Series"(EVO) for Smash Bros. Now, why are we taking a look at an esports event today? Well, game marketing is everywhere and we can prove it!
The success of this event has all stemmed from talented gamers who were hanging out, playing games in a basement when they had an idea to create the tournament. Robin "Jugglyguy" Harn went on to fulfill his vision and produced The Big House by renting out a small space on the University of Michigan campus in Ann Arbor, Michigan, for 115 people. By 2017, there were over 2000 people in attendance, forcing Jugglyguy and his team to get a larger space at the Cobo Center in Detroit.
But what makes The Big House so unique as a premium event for spectators, gamers, influencers, developers, and sponsors to attend?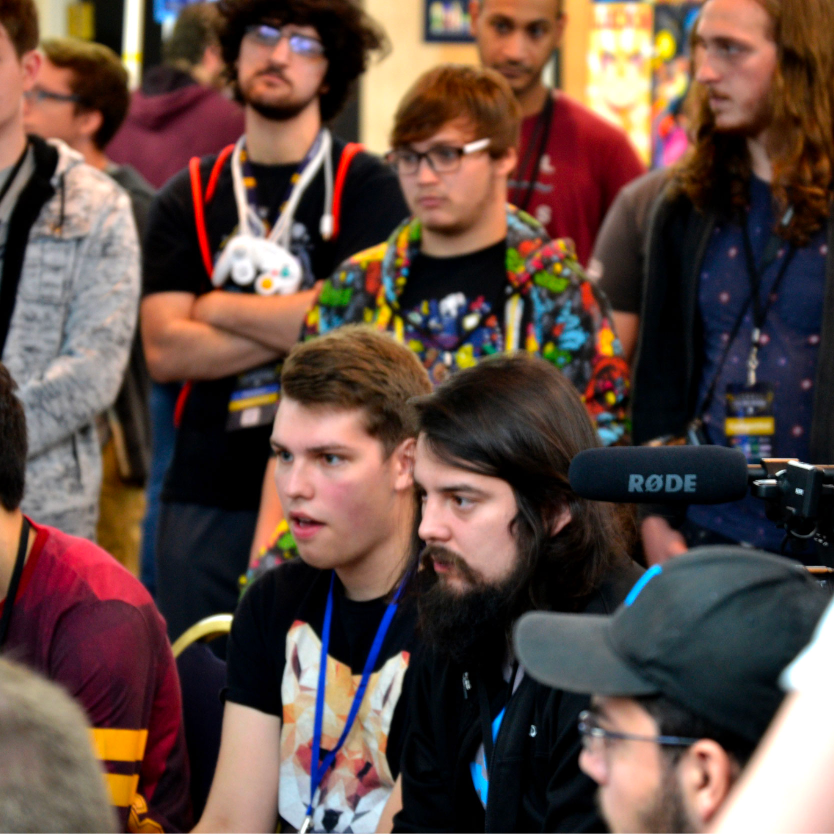 A crowded space, 2016 marked the moment of realization that this event was only growing larger and larger. "We need more space" - Jugglyguy - 📸: Connor Smith
My Experience at The Big House 11
I had the absolute pleasure to have attended this past weekend's Big House 11, where I was on a hunt to find out these answers for myself. Upon arriving to pick up my pass, I noticed the long line wrapped around the inside of Huntington Place's Halls. The line was filled with people who were all in attendance for different reasons. Some were spectators, competitors, developers who were ready to show off their indie fighting games, sponsors who were there to promote their products, and sponsors who were there to promote their brands. There were camera crews, vendors, and even marketplace representatives. I started to understand what was making this tournament so special.
Upon passing security, I was met with a spacious setup, and each room section was divided into groups through vendors, controller repairs, developers, and video game tournaments.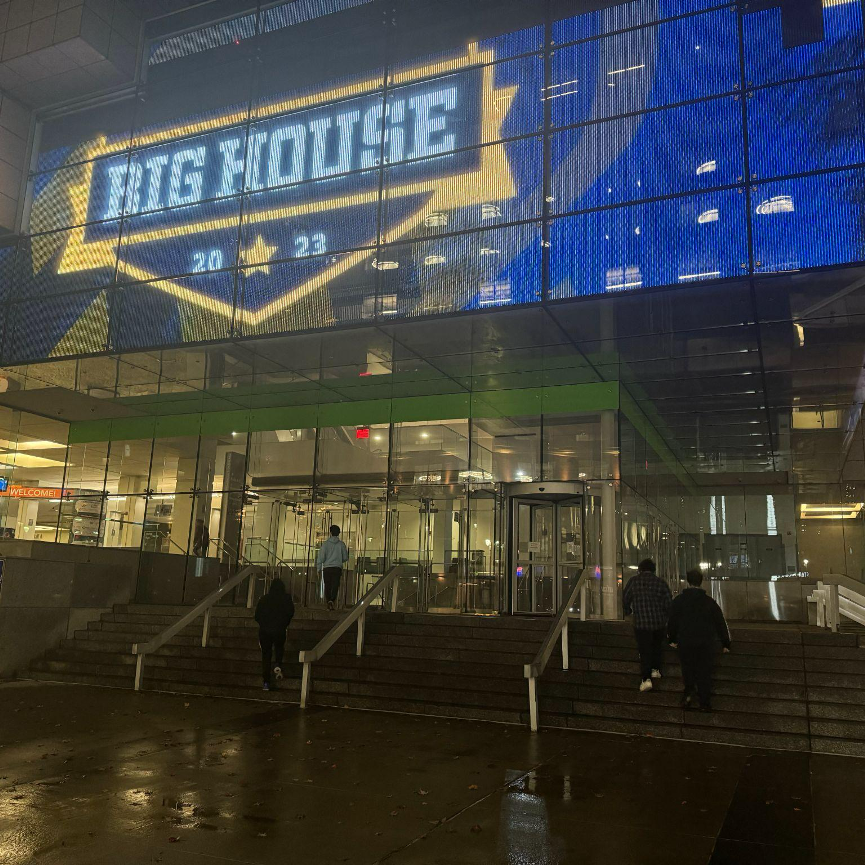 event was easy to find, with it's Logo splashed all over the building and nearby billboards - 📸: Kelsy "SuperGirlKels" Medeiros- Community Manager
I stretched extensively and kicked my feet off the ground to start my research! I spoke to many individuals. I took notes on how each role was involved in The Big House organization and how each role contributed to making this event so special. Here are some insights that I was able to gather on how to make a successful event from the ground up.
Organized and Professional Management
The main organizers are all kind individuals who show genuine interest in the video game community. They are gamers, making the event relatable to the gaming community.
The organizers had a lot of research that goes into each year's event. They take in feedback from their attendees and ensure safety regulations, well-planned schedules, clear rules, and a supportive, responsive team to help ensure an intense experience for participants and viewers.
Prize Pools and Incentives
Attractive prize pools and incentives motivate top players to participate. High stakes can generate excitement and draw in more viewers. As the Super Smash Bros. scene is known to be an independent community, there is an already low prize pool to begin with, as each prize is usually funded straight from the community itself.
As the Big House has increased in visibility, viewership, and attendance each year, so has the prize pool, which has attracted more top-level players who want to watch perform in person. Prize money for last year's Big House was just short of $19,820.00, which, in comparison to the first-ever Big House's $1000.00, is a huge prize.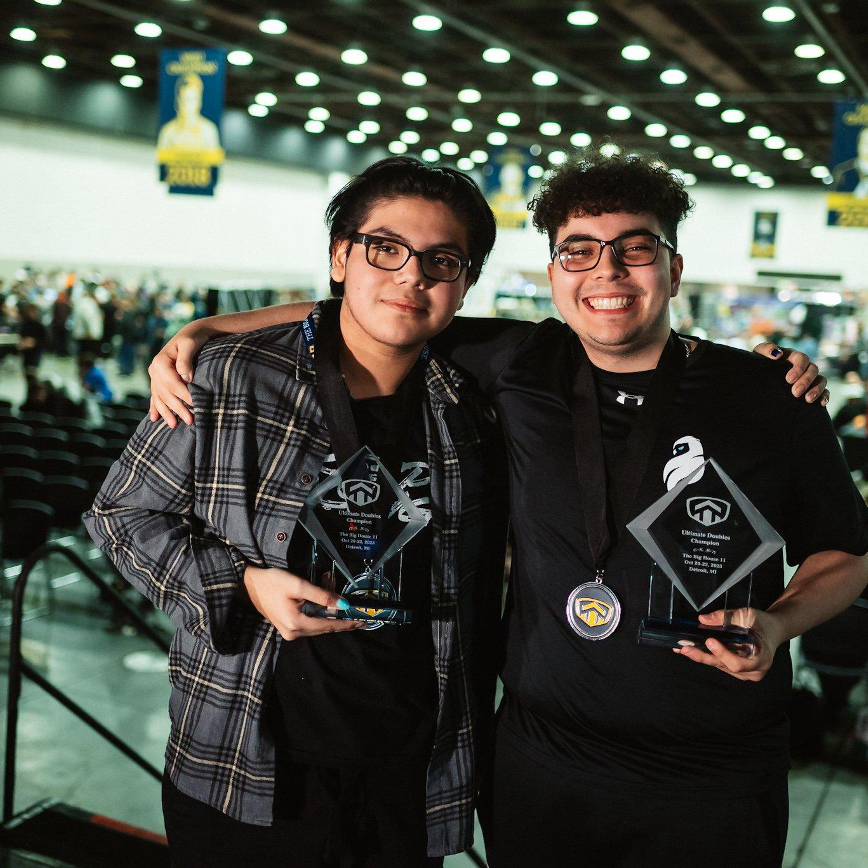 This weekend's "2VS2 Doubles Winners" included Angel "Pocket" Mireles, a Top 20 worldwide player as of 2023, with Jayson "Soar" Medeiros from Montreal, Canada. 📸 BlueRoseTori
Live Streaming and Production Quality
High-quality live streaming, with engaging commentary and production values, enhances the viewer experience. Well-executed broadcasts make the event more enjoyable to watch. This attracts viewers to attend the following year, making the anticipation for the next event to be even greater than the previous year.
Post-Event Review Recap by Shinta Smash on YouTube
Sponsorships and Partnerships
Sponsors often contribute to the prize pool and add legitimacy to the tournament. They also add exclusivity to their products that can't be found elsewhere. This makes the event unique and gives attendees an even more reason to try and attend the event.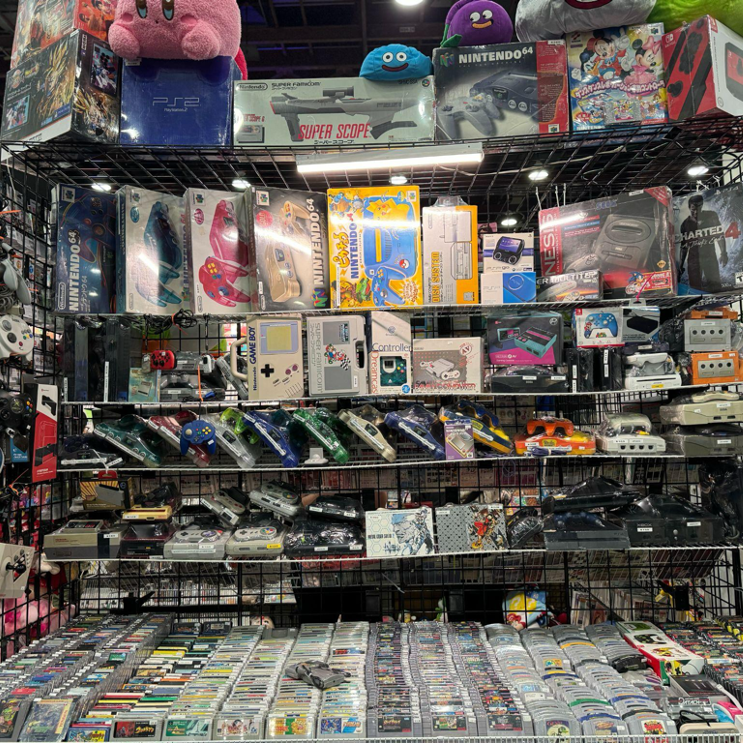 Rare and Retro items available at booths by: Gamers4Gamers
Global Accessibility & Price:
The event's registration was much less to pay for than other events. My pass for the Big House was $60.00 CAD, while other similar events are easily over $ 100.00 CAD. The hotels were only a 5-minute walk from the venue, and food was easily obtainable within the forum. This saves attendees a lot of time and money, making the trip all worthwhile for a reasonable price. I only had to pay for a UBER twice when arriving from the airport and travelling back to the airport on the day of departure, which helped out my budget for this trip.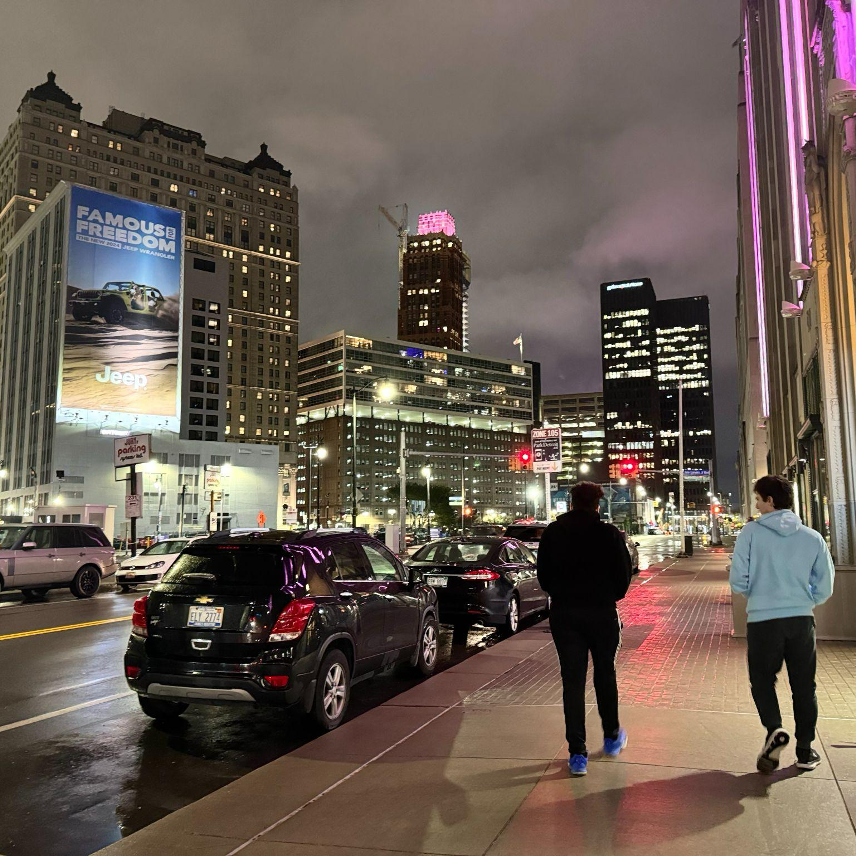 Downtown, Detroit - near the Event's Venue - a 5-minute walk to the main Hotel. 📸: Kelsy Medeiros
Community Engagement & Word of Mouth
The Super Smash Bros. community is undoubtedly the largest and the longest-running independent scene. The Social media platforms that the Smash scene uses is shared through forums, and fan engagement activities help create a dedicated fan base, making marketing more accessible for The Big House team. What builds a relatable connection between the organizers and its attendees, is that the organizers themselves are gamers. This makes speaking with the scene and its supporters much more personal.
Regular and Consistent Events:
Over time, The Big House has shown consistency in hosting tournaments on a regular yearly basis. With more people in attendance every year and more vendors and sponsors, each year has offered fans new but familiar experiences that have left attendees feeling comfortable. This consistency and yearly improvement only built anticipation and loyalty among fans. It's the event to look forward to every year.
Activities for Everyone
The Big House isn't just a tournament but an event to enjoy by families and those who may even be unfamiliar with the video game industry. Arcade machines from the 1970's-1990's were lined up in its play area for families to enjoy leisurely. Side brackets that would occur once every 2 hours all weekend were an excellent approach for new fans who wanted to understand the competitive nature and ambiance of the community. Finally, there were different games by independent studios. There's only so much Smash Bros. a person can take; even the most hardcore players, like myself, can use a break. Games such as Rivals of Aether 2 were present to try and even hosted their tournament throughout the weekend.
Everyone of all ages, regions, cultures, and genders was welcomed. The Big House expanded the event's reach to various areas and cultures, making it more inclusive and attracting a more diverse audience. Even language translators were in attendance to help the community connect.
Grand Finals of the Side Volleyball Tournament - Hosted by Sponsor: @GamingGen
Content Creation
Throughout the event, and even after the event had ended, top-quality content was produced for the community to enjoy from home. There were skits, recaps, interviews, highlights and trailers filled with announcements for the following year's show that only had people watch more. The Big House 11 has attracted over 100,000 viewers online throughout the weekend's show.
A sentimental quick recap on the community's favourite figureheads for an independent scene: By BigHouse
Preparing for Next Year: Feedback and Improvement
On the event's final day, I noticed organizers who all had the same T-shirt to stand out and went up to attendees, vendors, sponsors and more for feedback. A short questionnaire was given to fill out. It took about 2-3 minutes to complete my thoughts about the event. The most important part was that the organizer I spoke with was genuinely curious and made eye contact with me in a formal tone as he expressed his concern about how they could improve the event for next year.
Why is Big House an Important Event for Developers to Attend to?
The video game industry offers lots of events to connect with potential publishers and consumers. Among those events you have B2B, where you go to connect with industry experts and present your masterpiece to potential business partners. You have B2C events, to connect and present your game to the final consumer or a mix of both. The Big House is recognized as a B2C event, since you have access to gamers on the spot.
Events such as cons, or esports tournaments open up opportunities for the developers to connect with the gamers. These are your clients, and they are at this event to find enjoyment in gaming. You are able to connect with the gamer on a personal level while dazzling them with what you offer within your product. You'll be able to take in feedback and apply improvement before your game's launch. This also opens up discussions about your game, as their engagement will blossom around the event throughout the weekend amongst gamers and their friends.
One of the studios who were present at The Big House, was Rivals of Aether 2's Aether Studios. For these developers, this event was the perfect place to be at because of the Fighting Game Genre. Rivals of Aether's 2D-styled fighting game genre matched the interest of the event's gamers and was able to lure players to trying out their game. The studio also offered a side tournament to deliver excitement and to motivate players to practice new combos and stats within the game after its launch.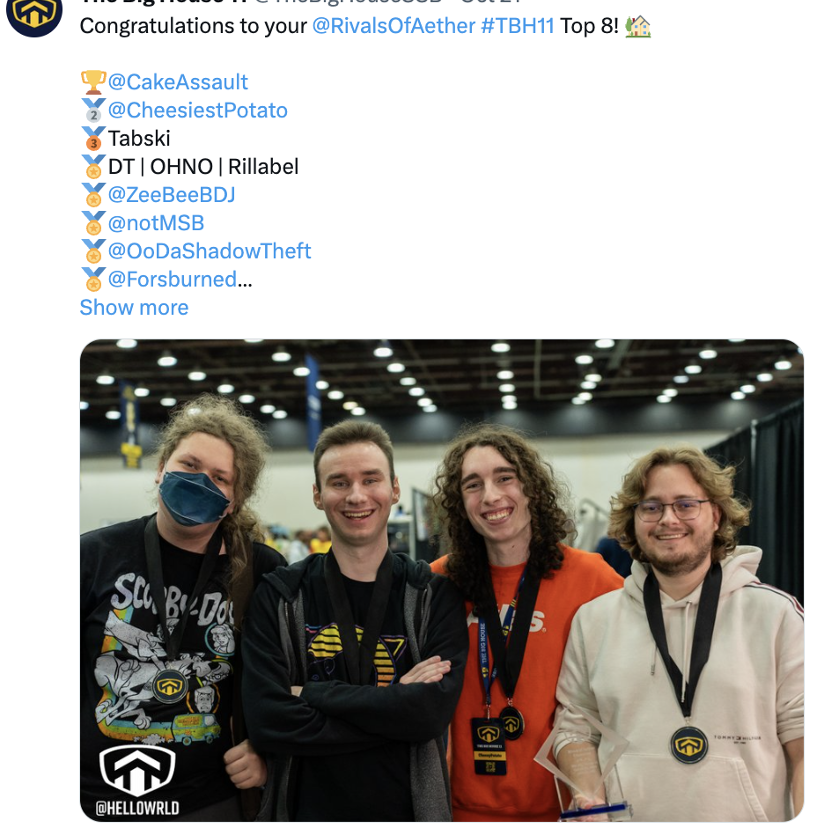 Winners of Rivals of Aether Event - Top 4 Finalists - 📸 HelloWrld
Rivals of Aether's social media pages grew followers and pre-orders for their upcoming game following The Big House 11.
Advice for Promoting Your Niche
After the hype was over and done, I did find myself some 1-on-1 time with one of the tournament's main organizers on Discord: Raymond "Rayn" Jackson. We discussed developers and independent communities, such as the Smash Bros. community and its events. I now understood what makes The Big House so unique. It's the passion that goes from a gamer's point of view to the business side of the community. I did have one more question on my mind:
How do you advertise such a niche community to the rest of the gaming industry?

My personal branding success came from the consistency across each delivery. Spreading your news across platform services, even through word of mouth, is best reached at the same time each day throughout different platforms.
It's essential to research the times in which each social media platform is at its most active. Platforms now offer tools to keep track of this, as well as the ever-so-changing algorithm across each social media platform. What may work now may not work in a year from today. Luckily, social media platforms offer their website analytics for you to use as research for promoting your branding needs.
The Big House 11 may have concluded this year, but work is never over for the recurring indie giant. The Big House team has already begun to take in this year's feedback and is already brainstorming for next year's adjustments. In response, The Big House 11 was a huge success for fans who were in attendance.
But much is yet to improve, even when you're as big as The Big House. If you are aiming to be Number 1 in your field and reach it, there will no longer be any purpose to continue after that. But if your goal is to learn and constantly improve at your work, then the results within your field will be unlimited.
For more on amazing tradeshows that you should appear at to improve your visibility, join our Community and let's set up a meeting through GameRebellion!